The objective of this game is to determine the Culprit, and to determine their Motive, Opportunity, and Method.
All Inspector Cyndi in Newport games are menu-driven games.
To play this game:
Use the Question button letters to question Witnesses.
Use the Map button to go to other locations to question Witnesses.
Use the History button to review the questions you have asked, and their answers.
Use the Advice button to get hints from Inspector Cyndi.
Use the Solve button to submit your solution.
For help, hit the F1 key. For blind-specific help, hit the F2 key.
To start the game, press the Enter key.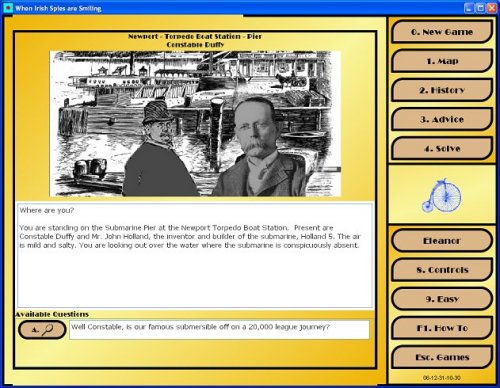 Inspector Cyndi games are intended for age 10 through adult
Inspector Cyndi games are rated B L, V I, C B, D F, M I, N I
Click here for definitions of the 7-128 Software Accessibility ratings.
FREE