This game requires you to find words in a random letter grid. Words may be made horizontal, vertical or at an angle from top to bottom.
The objective of this game is to clear the grid of all letters while acheiving the highest score.
To play the game:
1. The game displays a random letter grid.
2. Select letters that form a word by clicking on them.
3. Submit the word by pressing the Submit button. The word will be checked in the dictionary and if it is a valid word, the letters will disappear.
4. The grid will compress filling the spaces emptied by the removed word.
5. When you are unable to find another word to remove, you may shuffle the remaining letters by pressing the Shuffle button. But you will lose points if you do that too often.
The game is complete when you clear the grid or press the Give Up button.
There is no penalty for words that are not in the dictionary.
Time is not a factor in this game.
If you plan ahead with the words you choose, you may be able to remove more difficult letters like q's by moving a u next to it.
The Easy Button reduces the size of the grid and increases the number of shuffles before you lose points.
For help, hit the F1 key.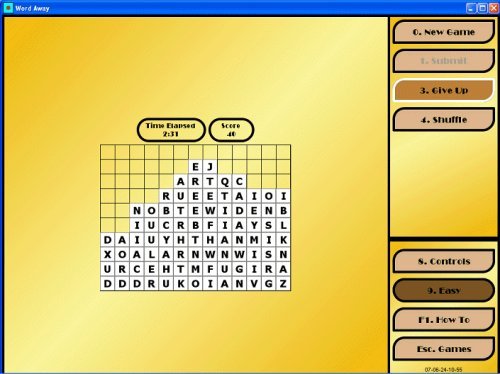 Word Away is intended for age 10 through adult
Word Away is rated C B, D F, M I, N I
Click here for definitions of the 7-128 Software Accessibility ratings.
FREE