He is a common deck hand, but with a gentleman's manners. Who is this unusual amnesiac?
Can your friend, Sam Turner, reporter for the Newport News, help you?
Cecil Worthington might know something about the Sailor's tennis racket.
And what can the Sailor's shipmates, currently drowning their sorrows at the Foundered Flounder, tell you?
Your Chief Inspector Skye wants this mystery cleared up now. Can you do it?
Question witnesses and suspects around Newport.
Maybe Inspector Cyndi can offer you some help.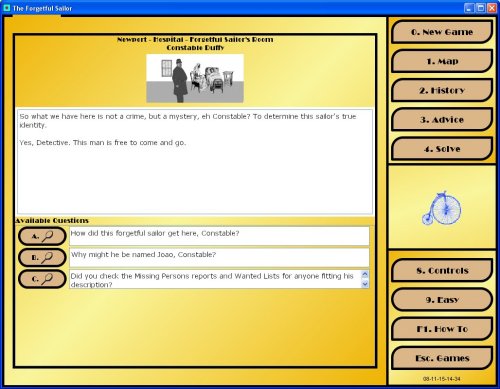 Inspector Cyndi games are intended for age 10 through adult
Inspector Cyndi games are rated B L, V I, C B, D F, M I, N I
Click here for definitions of the 7-128 Software Accessibility ratings.
FREE